A New York Ethics CLE: The Ethics of Legal Billing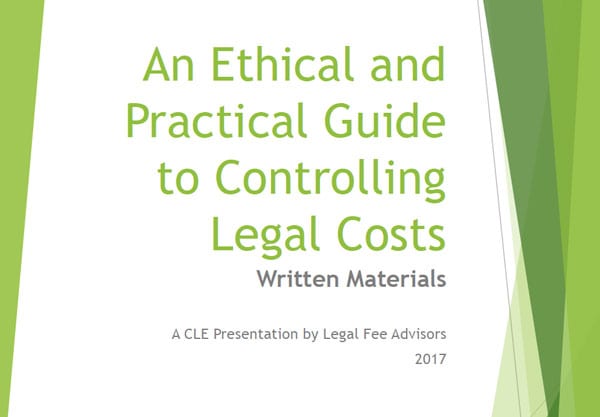 Course Description
Date: Thursday, December 21, 2017
Time: 1pm (Eastern Time)
Location: Online Webinar (details provided closer to date)
CLE Credits: 0.5 hours in Ethics and Professionalism (NY only)
This CLE presentation by the Managing Director of Legal Fee Advisors, David Paige, aims to educate new and experienced attorneys practicing in New York, regarding common commercial and ethical issues involved in legal billing practices and attorney's obligations, by focusing on his professional experience, caselaw, ethical rules and commercial practices.
The CLE will draw heavily on New York precedent, the ABA Model Rules of Professional Conduct and a Formal Opinion of the ABA entitled "Billing for Professional Fees, Disbursements and Other Expenses." There will also be discussion of common commercial practices.
The NY State CLE Board has approved the program for the following credits:
Ethics and Professionalism CLE Credits: 0.5 hours
Legal Fee Advisors believes the education of proper billing practices should be accessible to all persons within the legal industry. Financial aid is available to participants who are currently unemployed or are currently earning $50,000 or less per annum. Should you meet the criteria set out in our Financial Aid Policy, please feel free to contact Legal Fee Advisors via email to apply for a reduction to the CLE Presentation Fee.
Note, upon registering for the CLE you will be prompted to download the Written Materials that will be used throughout the CLE. The same PDF document will also be emailed to you.